Bartenders Adam and Derrick


CARSON STATION
CARSON CITY, NV
In May, 2001, AMERICAN MADE
appeared at Carson Station
during the Carson City
Bull Rider event--thanks to all
our friends and the fun-loving
staff who have become
our Carson City family!!
forfansonly

Have you ever seen a happier guy than Nat
with Bud girls Andi & Donna?


YES!....Al with the Bud girls!!
Al says, "I love my job!"
Genie, a recuperating Reese, & Sharon


Sandi & Joe show us how it's done
on the dance floor!

Just another ordinary day for
"gunfighters" Vernee & Gary
For Info about booking
Pistols & Petticoats
for your special event, call
(775)885-1094


Al relaxes on break with Ed & Nancy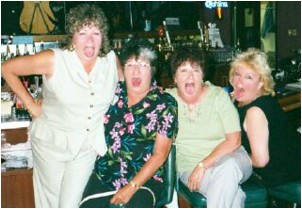 Our friends, the "WASSUP GIRLS"!!
(Kathy, Anna, Jeannie, & Tricia)